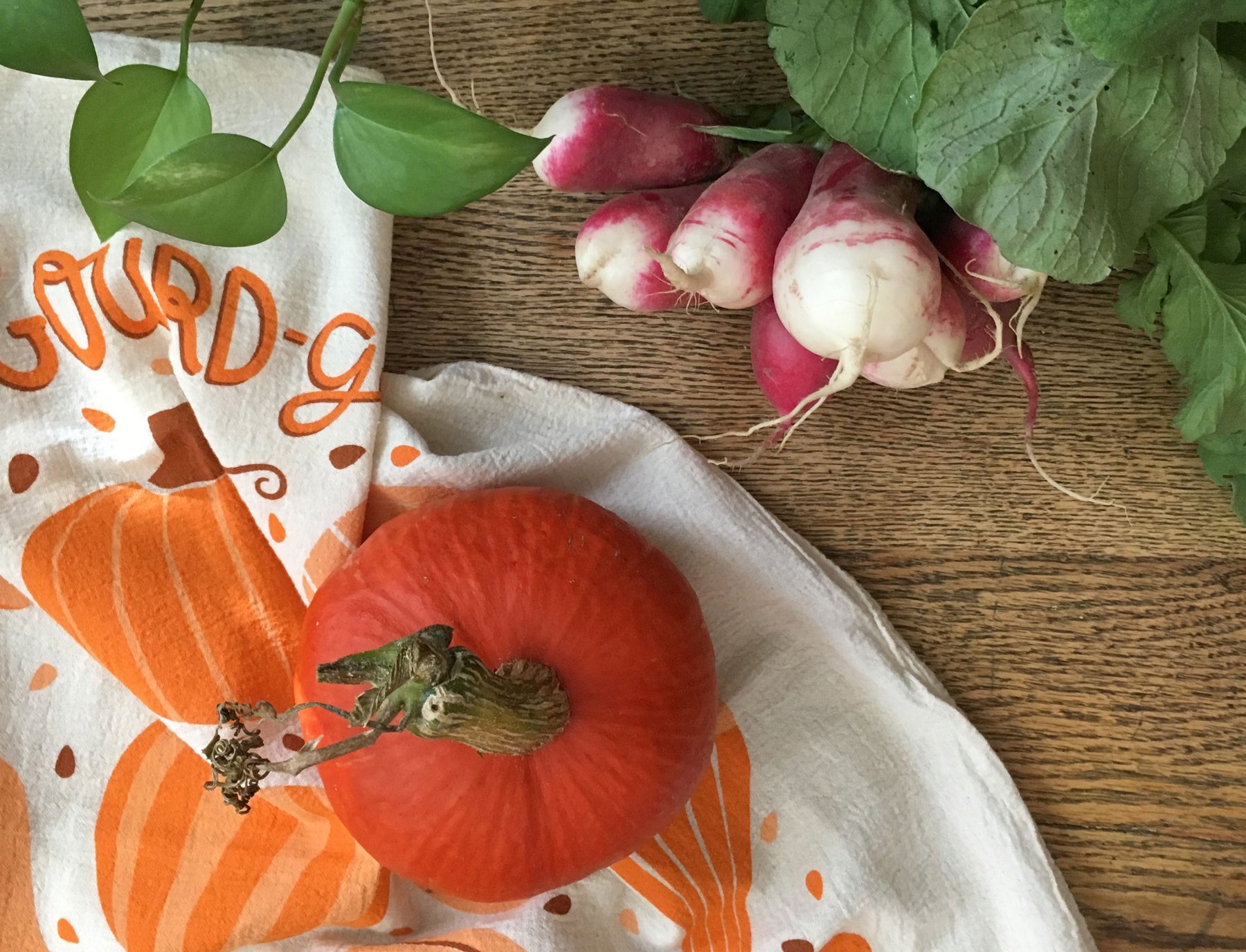 7 Ways To Eat (And Savor) Pumpkin This Fall
Pumpkins are the seasonal heroes of fall.
Often overshadowed by the pumpkin spice latte craze, pumpkins are gourd-geous, versatile vegetables that can be used to make delicious food and tasty snacks. From the skin and pulp to the seeds and flowers, pumpkins can be enjoyed in a variety of ways. Whether you're a fan of savory or sweet, we rounded up seven ways to inspire you to plate your pumpkins and savor the flavors of the fall season. And we have some kitchen essentials to help to bring the fall vibes into your home. 
Before we dive into our round up of the best ways to eat a pumpkin, it's important to note that while technically all pumpkins can be eaten, it's best not to eat your carved pumpkins, especially once you've taken them outside. Insects, birds, and squirrels enjoy crawling and snacking on jack-o-lanterns. Plus, carved pumpkins have a woody texture, bland taste and are stringier than pumpkins intended for eating. Instead opt for smaller, heirloom pumpkins, like the sugar pumpkin, Baby Bear, or Cinderella for your cooking needs, and be sure to compost your carved Halloween pumpkins, here's a link to help you with that.
Snag our Yippie Pie Yay Dish Towel Set of 3 for the baker on your gift list.
1. Pumpkin Pie 
It's nearly impossible to enter the month of November without mentioning or hearing about the iconic pumpkin pie. The classic dessert is loved for its smooth, velvety texture and nutty spices. Whether you're baking from scratch or using canned pumpkin puree as your filling base, a slice of pumpkin pie topped with whipped cream is a perfect way to bring in the fall season. To add a unique twist to your pumpkin pie, try out the Nutella Swirled Pumpkin Pie recipe from Sally's Baking Addiction.
2. Roasted Pumpkin Seeds
It's tempting to want to throw away the seeds when carving your pumpkin - but don't! We mentioned earlier that carved pumpkins are not typically enjoyable because of their tough and woody texture but the seeds actually taste good! Roasted pumpkin seeds are not only delicious but also packed with nutrients like magnesium, zinc, and fiber. Toss them with your favorite seasonings, roast them at 400 degrees for 5 to 20 minutes on a single sheet pan, bake them into a granola bar, or simply enjoy them alone as a healthy and crunchy snack. 
3. Pumpkin Soup
Infused with spices like nutmeg, cinnamon, and a touch of cream, pumpkin soup is an especially warm and comforting dish perfect for when it's cold out. Whether made from roasted pumpkin slices or canned pumpkin, pumpkin soup is easily customizable with your choice of toppings or garnishes. If you want a more savory flavor, omit the brown sugar and heavy cream and use coconut milk instead. Whether you're looking for an elegant addition to a holiday meal or an easy dinner idea that requires less effort than your traditional Thanksgiving recipes, pumpkin soup just may be the easiest dish to make on this list. Even better? The total meal prep time for Taste of Home's Pumpkin Soup recipe takes only 20 minutes.
4. Pumpkin Risotto
Here's another comforting (and quite easy) meal to make and insert into your dinner rotation during the cold season. Combine risotto rice and pumpkin chunks into a vegetable broth and let it simmer until the rice has absorbed most of the liquid, creating a thick and creamy risotto. For extra flavor add in a rosemary sprig and mushrooms while the risotto is cooking for a touch of earthy sweetness that complements other ingredients perfectly. Inspired by these complementary flavors of mushroom and pumpkin, we created the Fall Feast Dish Towel Set featuring two of our most popular dish towels this season, Mushroom and Hello-Gourdgeous.
Elevate the cozy fall vibes in your home with our top-selling

Fall Feast Dish Towel Set of 2

, or if you're a Rosemary lover you can enjoy having the evergreen herb in your kitchen for more than just cooking,

check out our full Rosemary collection here.

5. Pumpkin Pancakes
When we think of a cozy fall breakfast, a stack of warm, fluffy pumpkin pancakes immediately comes to mind. Stir in pumpkin puree into your batter and add a dash of cinnamon and nutmeg to give your breakfast a taste of fall. Pro tip: Whether you decide to make a homemade pumpkin puree or use a store-bought, drain the water content from your pumpkin puree using a cheesecloth to ensure pancakes are nice and fluffy. Don't have a cheesecloth? FUN FACT: All of The Neighborgoods Dish Towels are made from 100% flour sack cotton, which means the tight, fine weave allows the towel to act as a pseudo cheesecloth or strainer. For an extra touch of sweetness, drizzle the pancakes with maple syrup. Delish's Pumpkin Pancake recipe gives the lowdown on how to make your pancakes from scratch or with a can of pumpkin puree.
6. Pumpkin Bars
Pumpkin bars are a small treat that can be enjoyed at any time. They're great for dessert, but you could even eat them for breakfast because they are a good-for-you fall treat with heart healthy fats (and only take 10 minutes to prepare). Jodi, the Founder and Creator of The Neighborgoods, made the pumpkin bars above last fall and they were a hit with the team, you can find the recipe here from Dishing Out Health.

7. Pumpkin Hummus 
Try incorporating pumpkin into unconventional recipes, like hummus. With its creamy texture and slight sweetness, pumpkin hummus serves as an excellent base to dip in pita bread or vegetables. Pumpkin hummus is made with all the usual hummus ingredients (think chickpeas, tahini, olive oil, and lemon juice) all you'll need to add is homemade pumpkin puree or a ready-made can of pumpkin puree. Here's a recipe to get you started.

Shop our entire Gourd collection of dish towels, aprons, greeting cards and more.
Pumpkins are delicious ingredients that can be easily incorporated in your snacks and meals. Whether you use a pumpkin to try out one of the recipes above, don't forget to compost your pumpkin!