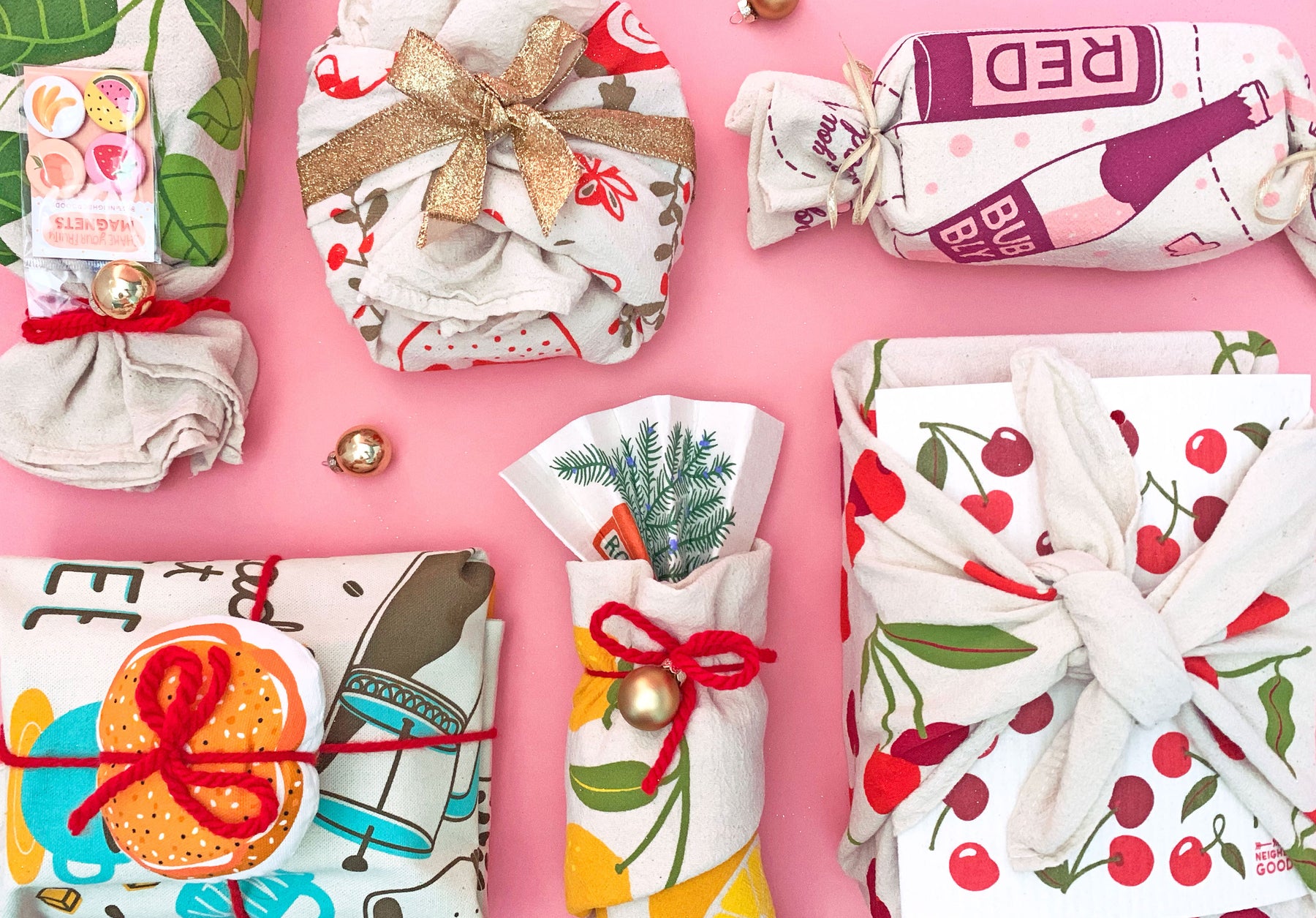 Neighborgoods Shop Small Holiday Gift Guide 2023
We paired our dish towels, totes, sponge cloths, and some stocking stuffer gift toppers with a few of our favorite small business products. We wanted to give you some fun gift ideas to get your list started. We then took it one step further and show you how to wrap it all together for one cute gift your recipient is going to love and be super impressed with your wrapping skills.
1. Gift for Coffee Lovers
A bag of our favorite local coffee from Lost Sock Roasters wrapped in our NEW Coffee Tote and topped with a Bagel Ornament is sure to create a buzz from your coffee loving friends and family. 
CLICK HERE to learn how to wrap these goods up together as shown below, or just take the easy route and throw the beans and ornament in the bag. You can even add one of our matching Coffee Dish Towels.

2. Gift for Gardeners, Plant Lovers, and those with a Sweet Tooth
These seed-bearing lollipops with edible herbs and flowers from Amborella Organics combines a sweet treat and a gardening project all in one. After finishing the pop, you can plant the biodegradable stick and it will grow an herb or flower matching what you just ate. We paired their pack of 8 pops with our Basil Dish Towel and added our Shake Your Fruity Magnet Set as a gift topper to match the strawberry basil pop.
CLICK HERE for a video showing you how to wrap these goods together for one great gift that will keep on giving after the pops have been savored. There are a variety of fun flavors these plantable pops come in and we have matching designs for those too, like our Roses, Marigold, Peach, and Mint Tea Towels, or check out our Dish Towel Sets to get a deal when buying in bulk. 

3. Gift for DIYers and Your Crafty Friends
We LOVE these cute little fake cake craft kits from Jenny Lemons, which makes the perfect gift for all of your crafty friends. We picked the Pink Cherry "flavor" to pair with our Cherry-O Dish Towel and matching Sponge Cloth to help clean up after crafting. They also have a strawberry and mushroom design available, which happen to pair nicely with our Mushroom and Strawberry Dish Towels if those are more your style.
CLICK HERE for a video tutorial showing you how easy it is to wrap these all together as shown below for one super cute gift.

4. Gift for some Self Care
These Happy Hour Shower Steamers from Chez Gagne are made with premium essential oils (which smelled so good while taking these photos). We paired them with our Love the Wine You're With Dish Towel to remind your friends and fam to take some time for themselves to unwind and relax this holiday season.
CLICK HERE for a video tutorial showing you how to wrap these steamers up in our Wine Dish Towel to make it look as sweet as candy.

5. Gift for Cocktail Lovers
This delicious little Lemon Herb Simple Syrup from Simple Goodness Sisters uses ingredients they grow on their farm and will liven up any cocktail, mocktail, and even baked goods. We paired it with our Lemon Dish Towel and Rosemary Herb Swedish Sponge Cloth which not only makes great gift wrapping, but will stick around long after the syrup is gone to freshen up the kitchen.
CLICK HERE to learn how to wrap these all together for a fun and festive gift that is sure to be a hit. Simple Goodness Sisters also have gift sets you can wrap up like we did with the fake cake kit above.

6. Gift for the Hostess with the Mostest
You can't go wrong wrapping a tin of cookies with a dish towel to gift to your holiday hostess, your friend with a sweet tooth, or that person who already has everything. Bell's Reines miniature gourmet cookies are baked by hand, in small batches, using the highest quality of nut free ingredients. We wrapped their tin  with our Season's Eatings Holiday Dish Towel for one sweet little holiday gift everyone is sure to love.
CLICK HERE to learn how to easily wrap these together as shown below. Let us know how it goes if you try it.
We hope this gave you a little inspiration for shopping small this holiday season and some eco-friendly gift wrap ideas that are going to make your gifts look so good. Check out our Gift Guide from last year for a few more gift + wrapping ideas.


Happy Holidays!