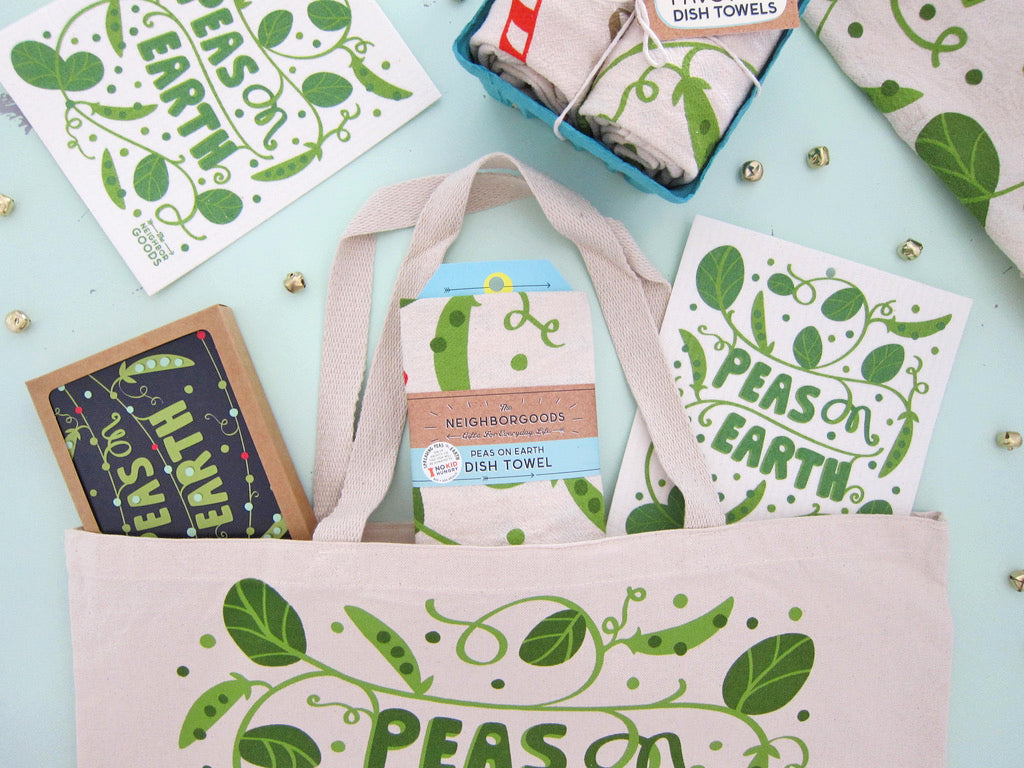 How We're Giving Back This Holiday Season
TODAY 1 IN 8 CHILDREN IN THE UNITED STATES ARE LIVING WITH HUNGER. That means 9 million children are missing meals or simply not getting enough to eat - a reality that has only been exacerbated by the coronavirus pandemic. Here at The Neighborgoods we want to help change that which is why we donate 10% of all the sales of our Peas on Earth Collection to No Kid Hungry, an organization that fights food insecurity. It's our small way of spreading more peas on earth. 
SHOP OUR PEAS COLLECTION HERE, and join us in helping to spread more hap-pea-ness this holiday season.

Peas on Earth Dish Towel has been our top seller so far this year at our Downtown Holiday Market.
NO KID HUNGRY USES THE POWER OF FOOD TO NOURISH FAMILIES and strengthen communities in times of crisis and has created a Center for Best Practices through its work helping educators, leaders, and government agencies develop and improve access to childhood nutrition programs.
Our Peas on Earth Tote Bag is great for grocery runs, farmers market hauls, and even to use as a gift bag.
At the start of the pandemic No Kid Hungry connected MedStar Georgetown's Division of Community Pediatrics leadership team with influential DC Chef, Erik Bruner-Yang to create a meal delivery pilot program for vulnerable families living in DC during the pandemic. The result? Food insecurity decreased from 75% to 21% for families in the program, which equated to a total of 775 deliveries of 14,191 meals for families with children over a 10-week period.
On top of funding pilots, the DC based organization supports school meal programs, federal programs such as WIC and SNAP, and works with elected officials to shift local, state, and national policy on creative ways to end child hunger. No Kid Hungry means business and we are excited to continue supporting their efforts towards ending childhood hunger. 
Our Peas on Earth Sponge Cloth & Dish Towel Set makes a great gift for gardeners, cooks, and foodies (and just pun lovers in general).
OVER THE LAST TWO YEARS THE NEIGHBORGOODS HAS DONATED MORE THAN $3,000 TO NO KID HUNGRY. Due to our donation, we received a special thanks letting us know how much we helped: 

SHOP OUR ENTIRE PEAS ON EARTH COLLECTION HERE for your gift to go a little further this year. We're also taking it one step further and on this GIVING TUESDAY (November 29, 2022) we will be donating 10% of our ENTIRE SITE to No Kid Hungry. With your help, we're hoping to surpass our $1,600 donation from last year to help make an even bigger impact. 
 Our Happy Holidays Dish Towel Gift Set is one of our top sellers your friends and family are sure to love.