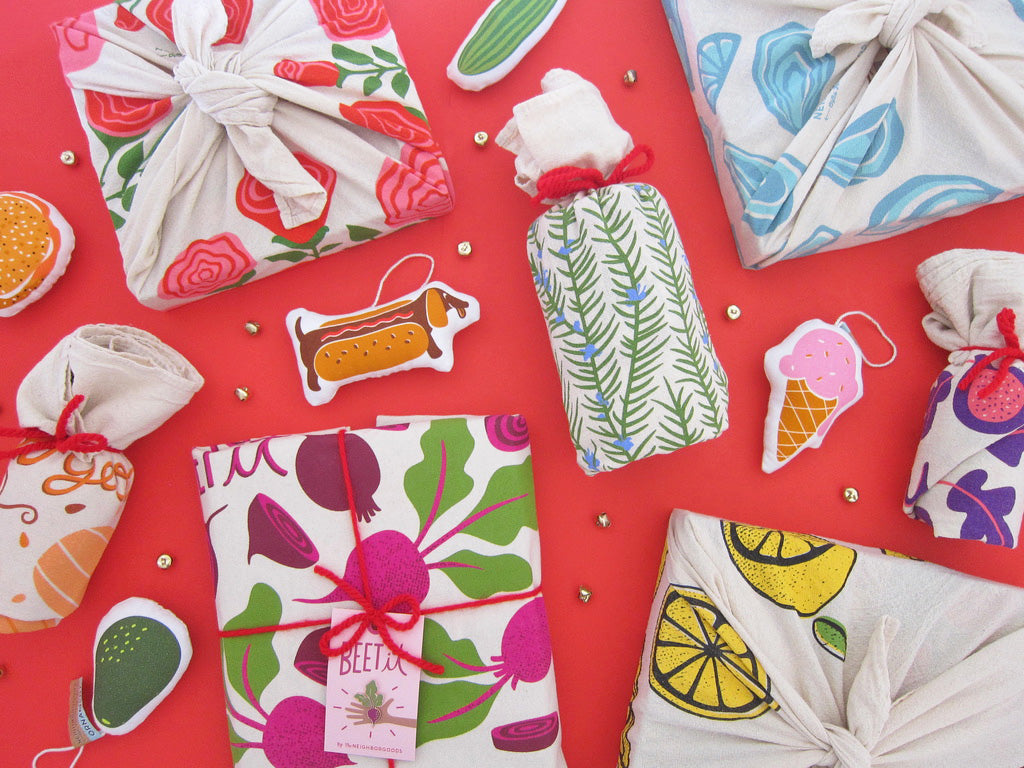 Neighborgoods Holiday Gift Guide 2022
We pulled together a few gift ideas to get your wheels turning for all of the people on your list. These gifts not only pair perfectly with our goods, but you can also use our dish towels and totes as gift wrap. This is an eco-friendly, low waste wrapping option that will make your gift stand out and show that extra love you put into it.
1. Gift for aspiring gardeners, city dwellers, and home chefs
Modern Sprout's self-watering rosemary herb kit in a vintage-inspired mason jar paired with our Rosemary Dish Towel is a gift that keeps on giving all year long. These cute kits come in a variety of different herb options, and we have matching designs for those too, like our basil or mint dish towels. 
CLICK HERE to learn how to wrap these gifts together as shown below and make everyone jealous of your gift wrapping skills.
2. Gift for book lovers and veggie lovers alike
We love gifting a book because you can change up the genre to really personalize it, a cookbook for the chef of the family, coffee table book for the home decorator, or that new memoir your friend keeps talking about. Wrapped in one of our totes you have one cute package with two awesome gifts, and they have a new tote for their next local bookstore haul.

Here we have Jose Andres Vegetables cookbook from one of our fav local DC book stores, Solid State Books, wrapped in our beet tote bag with a matching beet pin gift topper. CLICK HERE to learn how to wrap this all together as shown below.
3. Gift for cocktail lovers + your sober curious friends
Fellow local maker, Element Shrub, makes these delicious vinegar-based drinks, aka shrubs. Made with organic Apple Cider Vinegar and fresh fruit, you can use them as mixers for a cocktail or add seltzer for a refreshing non-alcoholic bev to sip on. And one of my favorite parts is that they plant a tree "shrub" for every bottle they sell through their site.

We paired Element Shrub's mixer gift set with our Falling for You Dish Towel Set (including our gourd-geous, apple, and figgy designs) and are breaking them apart so you can cross 3 people off your gift list with this one idea. These would be great if you're looking for something for a group of friends or coworkers.
CLICK HERE to learn how to wrap these gifts together as shown below and make three cute little gifts everyone is sure to love (and actually use!)

4. Gift for all those puzzle fans out there
I LOVE puzzles, especially ones with lots of color, patterns, and cute designs. Wrapped in one of our foodie or flower-themed dish towels this combo makes a great gift for all the foodie and gamers on your list.
Eeboo Piece & Love puzzles are made out of recycled material and vegetable inks and are a fellow woman-owned company. We paired our Fresh Oyster Dish Towel Set containing the Shuck Yeah and Lemon dish towels with their Blue Kitchen and Green Kitchen puzzles.
 CLICK HERE to learn how to wrap these gifts together as shown below, it's super easy and will make your recipient will think it looks so fancy. 
5. For the person who has everything, everyone can always use more candles
Who doesn't love a cute candle, amiright? Our Rose Dish Towel pairs perfectly candle set is made by local maker Relume, (packaging designed by me!) inspired by the rooms of the U.S. Botanic Garden. They are sold exclusively at the Rewild + Friends of the USBG museum shop there. Have you ever been? If not, you need to make a visit because it is filled with so many beauties and seriously cool plants, flowers, and botanical info....not to mention cute candles and dish towels in their gift shop.

CLICK HERE to learn how to wrap these gifts together as shown below to make the prettiest gift presentation.