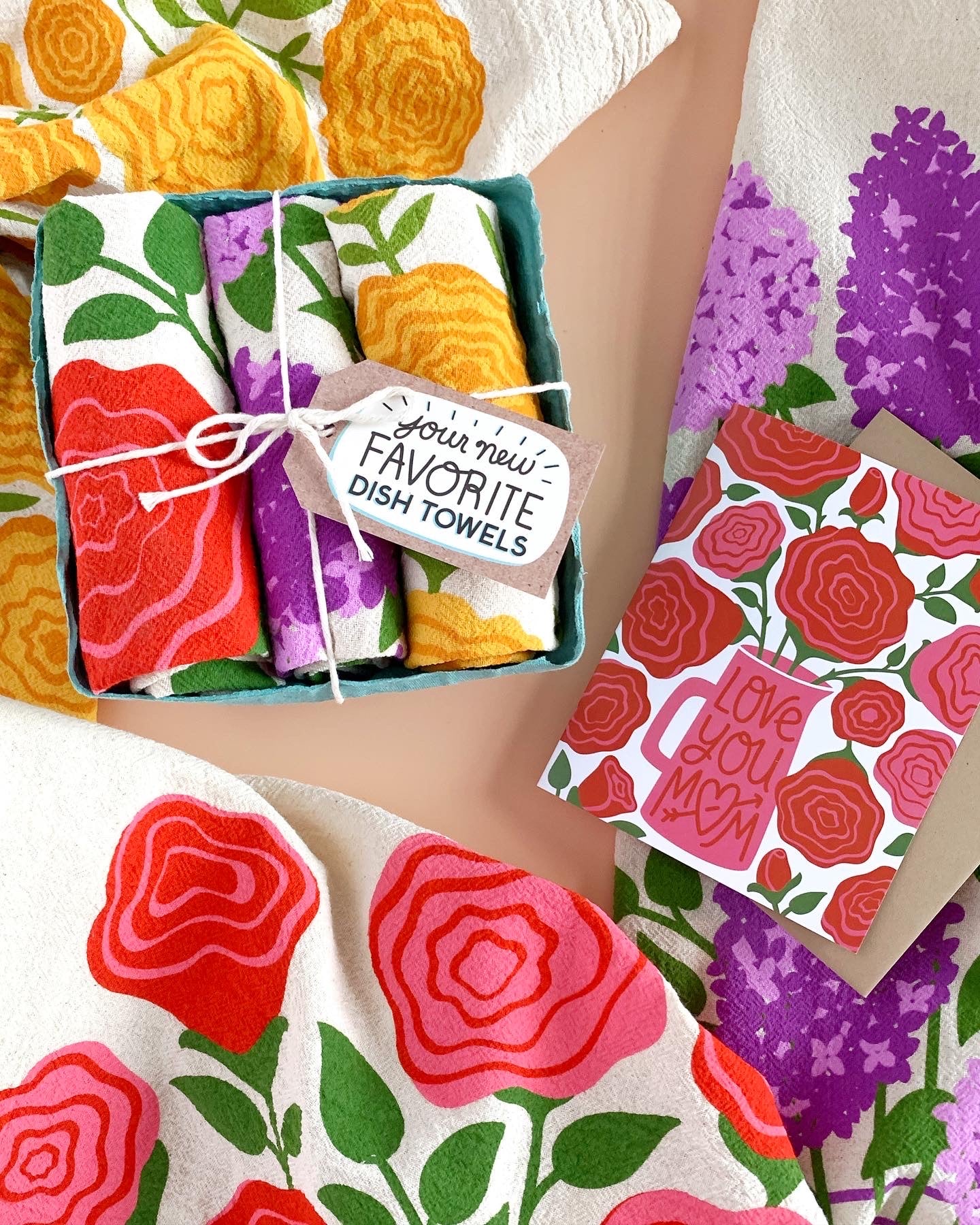 Mother's Day Gifts That Are Ready to Gift and Easy to Wrap
Mother's Day is coming up and we all want to show some appreciation to our mom, or mom-figure in our lives.
Needless to say, we think our dish towels, sponge cloths, and totes make great gifts your mom will love and can use in her everyday life. We even have specific Mother's Day gift bundles that are super cute and ready for you to gift, like our No One Lilac You Mom gift bundle below.
I designed our lilac dish towel inspired by my mom's love of lilacs. Paired with our mint towel, anyone who "lilacs" purple, flowers, and herbs will love this set. Click here to check out all of our gift bundles. 

If you want to add a little something below are a few additional gift ideas along with how to wrap them in one of our dish towels.
1. CHOCOLATES WRAPPED IN A DISH TOWEL - You can't go wrong with chocolates! We went with our all time favorites from a woman-owned company based in Detroit, Bon Bon Bon. We paired them with our Love the Wine You're With Dish Towel because there is no better pairing than wine and chocolate.
Click here to watch a video showing you how easy it is to wrap this up.
2. HOME BAKED GOODS OR JAM WRAPPED IN A DISH TOWEL - Nothing says LOVE YA MOM like a homemade treat, or gifting an ingredient to bake up something together.
We can't get enough of Trade Street Jam Co. for their interesting flavor combos, nice packaging, and not to mention delicious jams. The larger jars make great gifts wrapped in one of our dish towels, like we did with our Strawberry dish towel below.
Or take it one step further and bake up a sweet treat to gift. I went with the PB + J muffins on Trade Street Jam Co.'s website made with their blueberry and lemon jam, then wrapped them all up with one of our lemon dish towels.
Click here to watch a video showing you how to wrap up this jam and plate of muffins to gift.
PLEASE NOTE:  I made these before we redesigned our lemon towel, but it works just as well with our new lemon design you can snag here.
3. PUZZLE WRAPPED IN DISH TOWEL - Puzzling is a fun way my mom and I like to spend time together when she visits. So why not gift a puzzle of a local spot we visited together with a matching dish towel.
This one here is from our local biz friend, Right Place Studio, who is a Washington DC favorite for her watercolors and calligraphy. Wrapped up with our blossom dish towel, you can find here with the rest of our blossom collection, and topped off with some flowers picked from the yard, your mom will love this. It also makes a great birthday present as well. 
Click here to watch a video showing you how to wrap this up. Don't be fooled by it's fancy look, it's super easy.
4. CANDLE WRAPPED IN DISH TOWEL - Candles make great gifts no matter what, and when you wrap it up in one of our dish towels you have one great gift your mom is sure to love.


We picked up a candle from our local candle-maker friend, Handmade Habitat, and wrapped it our mint herb dish towel. You can pick up our towels as singles, or in sets (which you can buy to always have a few towels on hand, and break it apart when you need to wrap a gift).
Click here to see how you can wrap a candle in a dish towel as shown above.
5. SPA GIFT CARD WITH OUR MOTHER'S DAY BUNDLE - This is the easiest of all because our dish towel sets come ready to gift and if you pick up one of our Mother's Day gift bundles we throw the card in for FREE. Just print out a gift certificate from your local spa and include it inside the card.
Click here to see how you can easily wrap up the card with our towel set like we did above here.
These gifts are great for Mother's Day, but you can also gift them for birthdays, thank yous, house warming, and hostess gifts.
Be sure to leave us a note below if you tried any of our gift wrap ideas and how it worked out for you!