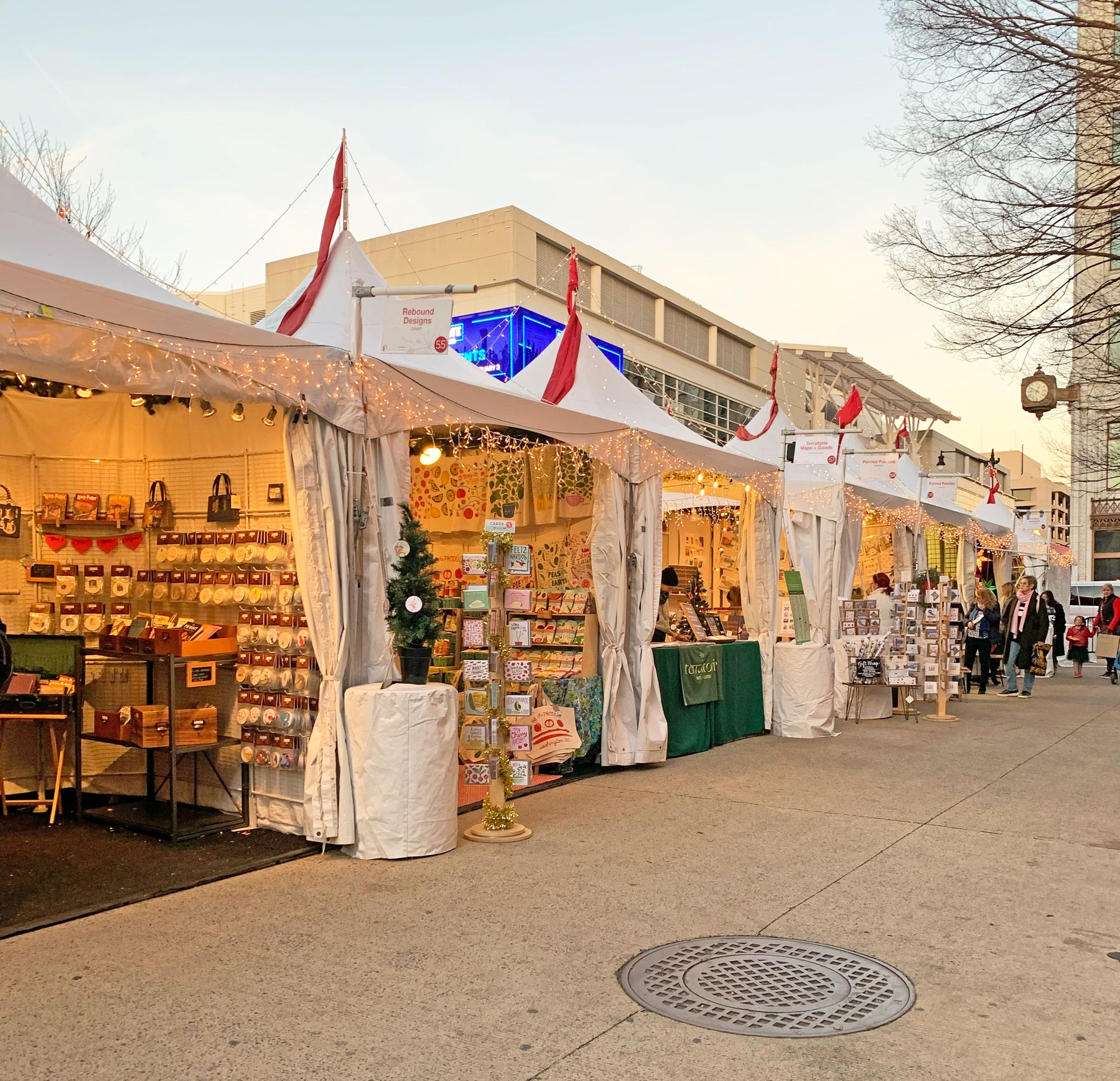 Downtown Holiday Market Reminds Us to Shop Small
Shopping small isn't just a fad. When you choose to spend your holiday dollars at a small business, it impacts the growth of the economy and local community. American Express estimates that an average of $0.67 of every dollar spent at a small business stays in that local community. This money contributes to neighborhoods by adding jobs and providing vital services like fire and police protection. 
If you're in the DC area this holiday season, The Downtown Holiday Market (DHM) is the perfect opportunity to do some holiday shopping while supporting local small businesses.  More than 70 local businesses will form an outdoor shopping village that will stretch two entire blocks of F Street NW, from 7th to 9th Streets NW, starting Friday, November 18 through December 23. 
This year's DHM retailers include Black-owned and minority-owned businesses. The market will also host six food vendors (hello apple cider doughnuts!) and live stage entertainment from regional music performers. And The Neighborgoods is so excited to be a part of the market's retail lineup once again for the third time.
You can find us in the same location as last year (Booth #57), facing Hotel Monaco closer to the 7th Street side. Hope to see you there!

Why You Should Shop Small 
The holiday season is an especially critical time to shop small, particularly after the past two years. Small business owners have had to navigate inflation, supply chain disruptions, and labor shortages in the wake of COVID-19. 
But what exactly are the benefits of shopping small you ask? Here are four reasons to shop small whether you're online, at a physical storefront, or (if you're in DC) at the Downtown Holiday Market. 
1. Shopping small is choosing to invest in your community. 
Small businesses invest in their local economy simply by nature of their location. The sales tax generated from small businesses support the community everyday from street repairs to funding EMT and firefighter services. Small businesses owners are also more likely to purchase goods and services from other local suppliers and distributors. So, when you shop small you, too, are investing in the community and helping to stimulate the local economy. 

2. Small businesses are facing unique challenges such as inflation and supply chain disruptions. 
The holiday season is always a critical time for local shops and restaurants—but in the wake of COVID-19 small businesses face unique challenges. Supply chain disruptions have made it more difficult to receive crucial goods and supplies. And the ongoing labor shortage has led to many small businesses owners running their businesses short-staffed, or on limited hours.
3. Experience a unique and curated gift shopping experience. 
When you shop at a small business you can trust that the products have been made with care. So, no matter who you're shopping for - parents, friends, favorite teacher, a new grandchild - you can expect to shop among products that are quality and handpicked by the shop owner. 
4. Foster a more sustainable economy. 
From 2000 to 2019, small businesses created 10.5 million net new jobs while large businesses created 5.6 million, according to a report by the U.S. Small Business Administration. Since 2000, more than half of the U.S.'s new jobs have been created by small businesses. Shopping at a small business creates more revenue which in turn leads to the creation of more job opportunities to support your local economy.


Small Businesses to Support This Holiday Season 
Keep these reasons in mind as you begin your holiday shopping. And if you plan to shop at The Downtown Holiday Market, be sure to stop by The Neighborgoods, (booth #58 close to 7th Street NW across from Hotel Monaco), and support a few of our other favorite, local makers that will be there: 
RAW BLOSSOM Soaps, Candles and, Bath and Body Care Products