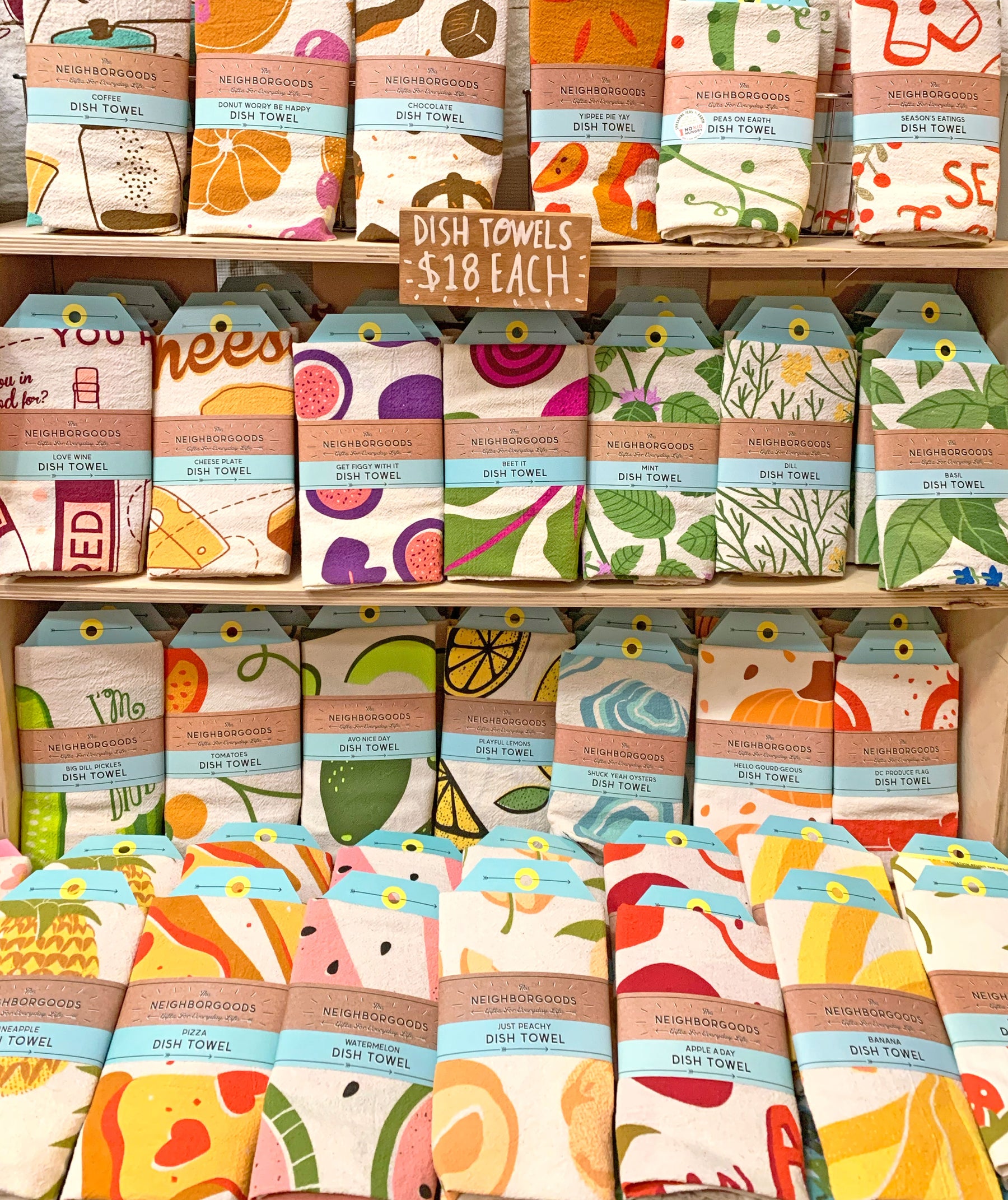 Our Story - How It All Began
Hello, Jodi here!
I am the creator, designer, and illustrator of The Neighborgoods. So glad you stopped by to visit this corner of the internet where my mission is to inspire and bring people together through the beauty of food. From sharing recipes and gift wrapping techniques to giving you an inside-look at the process of creating some of our most beloved foodie-themed products (like our best-selling dish towels), this space is meant to bring people, like you, together to explore and try new things. With that being said, we wanted to kick off our blog by helping you get to know more about our brand story and how we got our start!
2014: It All Started with a Holiday Gift Idea
There I was running a graphic design business out of my Brooklyn apartment, designing packaging and branding for clients in the food industry. The holidays were nearing, and I wanted to give my family and friends something special.  I always loved the thought that goes into putting together a creative, homemade gift, so I decided to combine my love for design and food by making screen printed dish towels with illustrated personal recipes. After discovering how involved the screen printing process was, I realized I couldn't just make them in a weekend workshop. Needless to say, I didn't end up making the dish towels for the holidays that year. Instead, in January 2014 I signed up for a semester course at School of Visual Arts (SVA) in New York, to learn how to screen print, and that is where it all began.
The very first illustrated recipe dish towels I made in my screen printing class were a family pancake recipe, and a cupcake recipe that I made for my husband every year for his birthday.
2015-2018: The Early Years
Over the next year and a half, I kept using the studio at SVA not only to print new designs onto more dish towels, but to print onto baby one-pieces (too cute not to), tote bags, and art prints as well. It was fun to see my designs come to life as a product just by pulling the ink over a screen. One day a fellow SVA classmate asked if they could buy one of my dish towels and the seed was planted to start The Neighborgoods. From that point on, I participated in a few small craft shows, and opened an Etsy shop for the holidays. 
Me printing our pickle print at the SVA print studio, a towel I made for my pickle-loving friend's birthday, and the one a fellow classmate asked to buy. It's still one of our popular designs today, so you can definitely say it's KIND OF A BIG DILL. 
My first craft market in Brooklyn, New York the summer of 2014. I didn't even have packaging for my towels yet, and also made tote-puns not just food puns.



In 2015 my husband got a job in Washington, DC so we packed up our New York apartment, Frankie, our weiner dog, and all of our dish towels to head to our new home in the heart of the nation's capital. I was still running my design business,
Hello Neighbor Designs
(click here to check out some of my work
)

, while growing The Neighborgoods brand on nights and weekends. Over the years I created new designs, added more product categories, finally made packaging for my goods, started to wholesale, and participated in even more craft markets.  
This is a photo of my very first inventory storage. It only took up three shelves, which is very different from our current two storage units and the entire basement of my home. 



To my surprise and delight, the local DC community embraced The Neighborgoods with open arms. DC loves to support local businesses and we loved being a part of our new maker community. Business kept growing, but hours in the day did not. So, at the start of 2018 I decided to take the leap and make The Neighborgoods my full-time gig and not take on any new graphic design clients. This shift was exciting, and scary, but it gave me more time to focus on growing The Neighborgoods. That year, I participated in my first wholesale trade show, became a regular vendor at the USDA Farmers Market, and participated in our first big Downtown Holiday Market. 
Our first wholesale trade show in January 2018 was just one wall in a shared booth. Our collection has certainly grown since then.
2019-2021 From Storefront to Basement
I had the opportunity to open my first brick-and-mortar store in May 2019 in Shaw, Washington, DC. Another scary move, but I took the big leap and loved being a physical part of the community, where people could shop for gifts, meet for events, and to feel a communal sense of belonging. As we were finally getting the hang of running the day-to-day operations, COVID-19 came onto the scene and changed everything. We closed our shop doors for the following months and then officially moved out in October 2020. Since the future was unknown, we moved production to our home basement studio where we currently still package up all the goods and ship them to our loyal customers as well as our 400+ retailers across the country (and a few across the ocean).
Frankie and I on the opening day at our shop, May 2014 and an inside view of our little store filled with colorful goods.



Our home studio after moving in...it is a LOT fuller these days and bursting at the seams.
We are still on the hunt for a retail space but until then we're making it work with what we have and are happy to still be able to do what we love which is creating products for you to use in your everyday life that will brighten your day and make you smile. The Neighborgoods has become bigger than I could have ever hoped it to be when I first began printing dish towels for fun back in 2014 and I have all of you to thank for your support over the years. 

2022: And With That This Blog Was Born

My hope is to continue to share my passion for food and design with you in new ways that add meaning and bring joy to your day. With that being said, I am so excited to share with you the launch of our blog where I will share some of my favorite food and drink recipes, gift wrapping techniques, ways I try to
live and eat sustainably, and more. I hope you'll like it here.