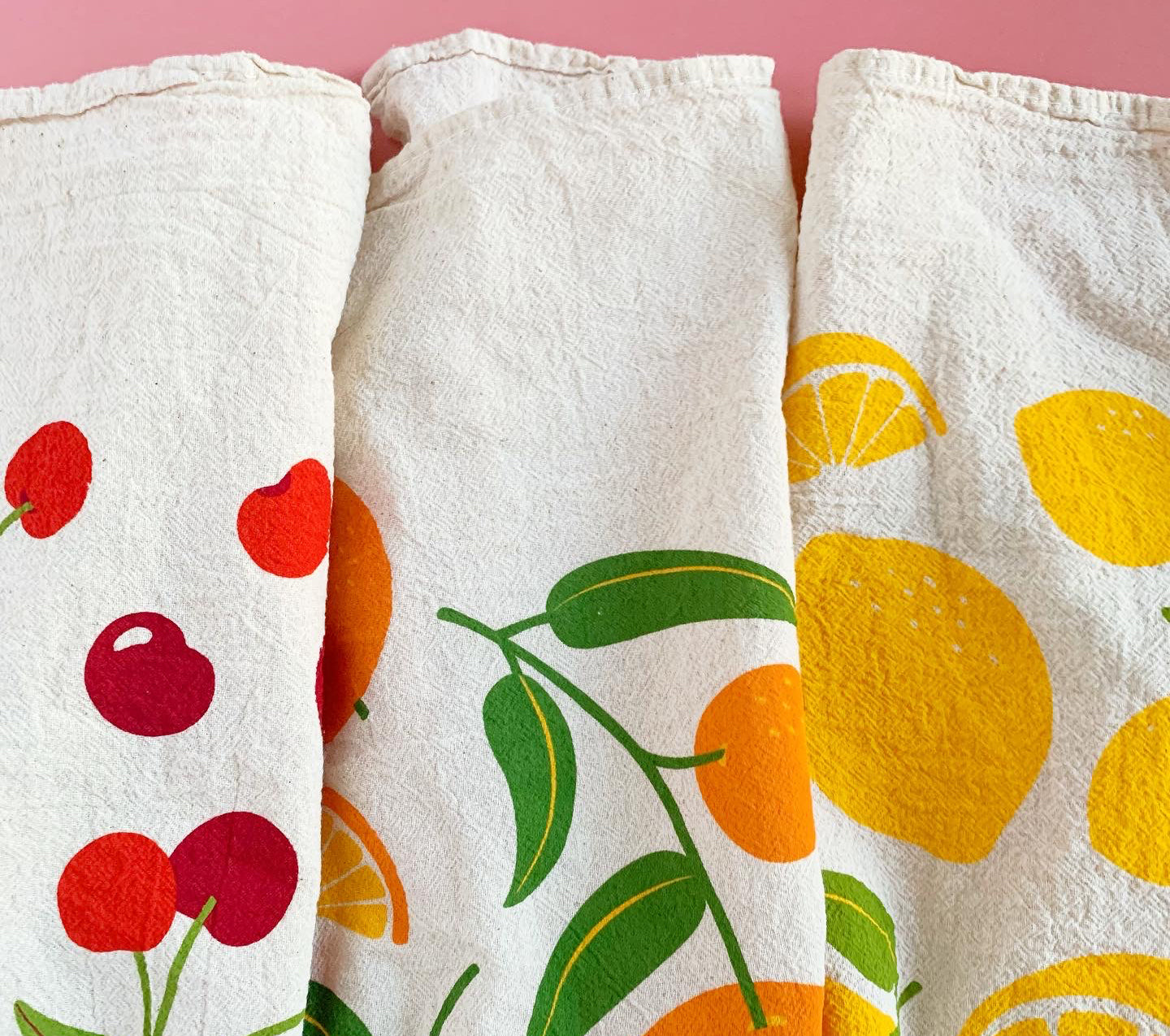 Fruit Stand Collection Inspiration
Squeeze the Day and Some Lemons
My mom, sisters, and I went on a trip to Italy this past Fall. We visited Rome, Florence, and Sorrento, home of limoncello and the land of lemons.
We visited La Masseria Farm, a family-run farm with spectacular views specializing in producing Sorrento lemons and olive oil. We went on a tour of the grounds learning all about their lemon and olive trees, as well as the variety of other fruits, vegetables, and herbs they grow using sustainable and environmentally friendly farming practices.
Here you can see the olive trees in the background, the herb pots they made from the cedar they grew on the farm, and the seasonal vegetables in front. They really used every single piece of land.
There I learned that growing a lemon tree from a lemon seed doesn't produce the best fruit, so they actually start each lemon tree with an orange seed. Once the orange tree grows into a little sapling they attach a piece of one their lemon trees onto the stock. The two pieces eventually grow together producing the fruit of the lemon tree on top with the benefits of the orange tree roots on the bottom. Depending how they graft the trees together it could grow with half of the tree producing lemons and half producing oranges. Whaaaa?!?! I thought this was so cool and loved how the lemons and oranges worked so well together.


Walking through the lemon grove at La Masseria Farm. They built the canopies from cedar trees they grew on the land and walked on top of them to put up nets to protect the trees from harsh weather.
We ended the tour with a home cooked meal from the mother of the family using everything they made at the farm (including lots of homemade wine!) and it was buono. I highly recommend this place if you're visiting Sorrento, here's a link to learn more.
After our trip I couldn't stop thinking about this amazing little farm as well as the fresh and vibrant lemons surrounding us from the fruit to the gelato and all the chatychkes in between. It inspired me to squeeze the day and use that inspiration to update our existing lemon design to something a little more leafy and playful that gives a nod to the trees they came from after learning more about them. The redesign of our lemon towel began and it needed some fruity friends.



Orange You Glad I Went on a Lemon Tour?
After learning how the lemon trees were grown from from orange seeds, I knew oranges were the next addition to my fresh new collection. I was also getting some subliminal signs from the universe telling me to do an orange design, like this amazing vintage orange glass and pitcher set I found at my favorite flea market, Brimfield, for only $10! I know, I couldn't believe it either and had to buy the set because it was so cute and made me smile.


If you are a flea market lover like me, you have to check out the biggest and best flea of all time in Brimfield Massachusetts. Click here for more info, maybe I'll see you there.
Or this giant, happy orange printed by Banquet Atelier (a fellow woman-owned business) hanging on my dining room gallery wall. Looking at it everyday it brightens me up from the outside in and has definitely been calling to me to add oranges to The Neigborgoods line.  


You can pick up your own giant screen printed orange here, or get one of our towel designs as an art print (available in 4 sizes), like our watercolor cherries shown here.
It is said that in some cultures oranges are given as gifts to express joy and good wishes. That is exactly what I want our goods to represent as well, bringing joy into your everyday lives.

Cherry on Top
Last but not least, I wanted a third design in this fruity collection and who doesn't love a cherry on top.

Growing up my sisters and I loved sitting on our front porch swing, snacking on sweet cherries, seeing who can spit the seeds the farthest. We could spend hours out there hanging out, playing games, and soaking up the warm summer days. Cherries still transport me back to those carefree summertime days bringing back memories I will always cherry-ish (see what I did there).


Okay, I couldn't find a photo of us on the porch eating cherries in the summertime, but I found some old pics of us playing on the porch as well as the beloved porch swing, I really loved hanging out there.
This new colorful collection is so cheerful I can't help but smile when I see it. I hope you like it too. You can add our new lemons, oranges, and cherries to brighten your home with our dish towels, and sponges or bring one of our gift sets to your next housewarming party.


Until next time, CHERRY-O!
Jodi